Bumbling Stumbling Crumbs
What exactly does Jerry Krause have to do to be fired around here?
---
By: Nick Dozier
6.17.02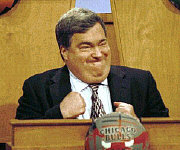 The Chicago Bulls were the team of the 90's, the perennial champions, the unstopa-bulls they were called. Now after the dismantling of the greatest team of all time, the Bulls find themselves struggling to win 20 games a year. How could this have happened? The answer: Jerry "Crumbs" Krause.


Through some serious mismanagement, bad drafting strategies, and the inability to scout viable talent, Krause has become a laughing stock to the rest of the NBA. This man is a walking boner, a contradiction waiting to happen yet he somehow manages to keep his job it all. Here is a rundown of his worst front-office decisions.
1991 Draft: #26 Mark Randall
1992 Draft: #27 Byron Houston, #33 Corey Williams, #52 Matt Steigenga
1993 Draft: #25 Corie Blount, #41 Anthony Reed
1994 Draft: #21 Dickey Simpkins, #49 Kris Bruton
1995 Draft: #20 Jason Caffey, #31 Dragan Tarlac
1996 Draft: #29 Travis Knight
1997 Draft: #28 Keith Booth, #58 Roberto Cueñas
1998 Draft: #28 Corey Benjamin, #34 Shammond Williams, #58 Maceo Baston
2001 Trade: Elton Brand to Clippers for Brian Skinner and Tyson Chandler
1994: Pete Myers to Replace Michael Jordan