From First To Worst
the story of Kwame "Big Suck" Brown
---
By: Nick Dozier
4.21.02


The NBA draft has always been wrought with the occasional boner; Shawn Bradley at #2, Sam Bowie ahead of Michael Jordan, numerous high-schooler flops; but the number one pick is usually a solid one. Until this year. When the Washington Wizards' picked Kwame Brown, straight out of high school no less, it resulted in one of the most disappointing rookie seasons in recent years. If not the worst number one of all-time, definitely one of the worst in recent memory, Brown managed to achieve new levels of sucktitude. Here is a rundown of the past 20 number one picks and how they fared compared to Kwame.



Note: this is a comparison of the careers of the top picks; Kwame might become one of the best players in the NBA but if he remains at this stage he'll be shoveling Harold Miner's driveway soon enough.
1982 : James Worthy
1983 : Ralph Sampson
1984 : Akeem Olajuwon

During his heyday with the Houston Rockets "the Dream" won a couple of championships, an MVP, defensive player of the year, a spot on the 50 greatest players of all-time list, and added an "H" to his first name all before becoming a rickety old heap for the Toronto Raptors.

1985 : Patrick Ewing


In 14 years as a New York Knick, Ewing became the team career leader in almost every statistical category and lead the team to a finals appearance in 1995 before developing a case of Olajuwon Disease. Wait should it be called Olajuwon Disease or Ewing Disease? After all Ewing may have caught it first. He has looked like a crippled old man running up and down the court for the Magic and Sonics but he may have already begun showing some signs of aging during his Knick days. Yup, definitely from now on it will be called Ewing Disease.

1986 : Brad Daugherty
1987 : David Robinson
1988 : Danny Manning
1989 : Pervis Ellison
1990 : Derrick Coleman
1991 : Larry Johnson
1992 : Shaquille O'Neal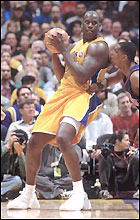 Well what can be said about Shaq that already hasn't been? Hands down the most dominant player in the game. An MVP, 2 championships, 2 time Finals MVP, Rookie of the Year, 6 all-star appearances, 27.6 career ppg. Not too shabby.


The one knock against Shaq is his uncanny ability to throw up rim busting free-throws. I prefer to pick on his "Duh....I'm Shaq" look that he always wears around but thats really neither hear nor there.

1993 : Chris Webber


Webber has been a genuine threat to win the MVP over the past two years and is currently leading the Sacramento Kings in their pursuit of an NBA championship. Plus he's boning Tyra Banks.

1994 : Glenn Robinson
1995 : Joe Smith
1996 : Allen Iverson
1997 : Tim Duncan
1998 : Michael Olowokandi
1999 : Elton Brand


Was the best player on a horrific Bulls team before being traded to the Clippers by the almost comically inept Jerry "Crumbs" Krause. Brand is currently the only all-star on a halfway decent LA Clippers club. Wait, did I just call the Clippers halfway decent? When is the last time you heard anyone lauding that kind of praise anywhere near the Clippers? Yet amazingly it is true the Clippers do seem to be on the cusp of a playoff berth. Of course if Lamar Odom decides to leave, like many of their high-profile players seem to, then obviously they are screwed blue once again. Wow that was a wild tangent getting back on track...

2000 : Kenyon Martin
2001 : Kwame Brown


Yes I agree, I may be digging into Kwame a little too hard in the column but his rookie season was less that superb. 4.5 ppg and 3.5 rpg in 57 games was definitely a disappointment. Plus the was whispering that Kwame was not physically ready for the NBA when he was sidelined for an extended period with some sort of anemic condition. Although the may be expected-going from 30 games in high school to 82 in the pros is quite a leap.


All hope is not lost however and Kwame may even flourish in the upcoming years. After all he does seem to have all the athletic ability in the world he just needs to learn to be a basketball player. Jermaine O'Neal and Tracy McGrady both struggled when they first came into to the league from high school and now they are both all-stars and two of the most explosive scorers in the league. The question is can Kwame come back from such a lackluster year? Only time will tell.