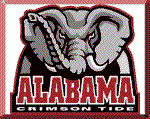 Home
Game Summaries
Game Day Previews
Top 25
What do you think?
History
Fight Song
News
Records
Contact Me
Football Pick 'em
Archives
What Others Think
Player Profiles
Long Live The Bear
Tide Links

Roll Tide
a university of alabama fan site
---
08/28/01
Fall 2001 Kickoff is just 4 days away!! Will the Tide be able to bounce back from the stench that was the Mike DuBose era? Can they recover from their first losing season this decade? Will they return to the national power that they once were? Oh, I think they will!! They will get their chance starting September 1 against #15 UCLA. Keep this site on file for all your Alabama needs, all season long 24 hours a day, 7 days a week.
---
Check Out The Latest Polls
USA Today Poll
AP Poll
---









---
2001 Preview
---
You need Internet Explorer to optimize this site


This site is maintained by Nick Dozier

---
Legal Notes:
Roll Tide: a university of alabama fan site is in no way represented, authorized, or supported by the University of Alabama, its coaches or players. For the official Athletic site go to Rolltide.com. This site is a creation by a university of Alabama fan and for recreational purposes only.
All features, commentaries, and columns not strictly produced by Roll Tide, are appropriately credited to their authors and respective publishers. This site does not claim or project any copyright to these articles. These are the author's works, not our own.
---